Service Provided
Cross Docking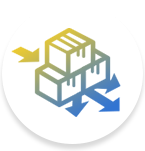 With various needs of customers in logistics this day, one of the service that TTK Logistics (Thailand) Co.,Ltd. provides to customers, is Cross dock operation to exchange the cargoes at our warehouse which is closed to customers and deliver just only the order needed to customers. This is to reducing inventory and cost of inventory including cost of transportation of cargoes to customer plant.
Today, TTK Logistics (Thailand) Co.,Ltd. provides cross docking operation services for customer in automotive industries and other industries in various location such as Hemaraj Industrial Estate Eastern Seaboard and Electronic 304 industrial park. Not only this but we also have plans to expand our service to Rojana Industrial Estate in Ayutthaya and other locations in the future.
TTK Logistics (Thailand) Co., Ltd. has developed an Application to support cross dock operation to match with customer needs, reduce risk of making mistake, and able to perform tasks with accuracy to be able to provide the best customer satisfaction.


Movement pallets handling
400,000+Pallet per Year